The anticipation for No Time To Die has been slowly growing amidst delays and rumours that it will be Daniel Craig's final outing as 007, and in the lead up to the September 30 release date the franchise's marketing machine has been ramped up.
Beaulieu's National Motor Museum will be launching 'Bond in Motion – No Time To Die', a new exhibition featuring the iconic cars, gadgets and costumes from the latest 007 film, shortly after the film's debut.
On top of that, Land Rover SV Bespoke has created a new Land Rover Defender V8 Bond Edition to celebrate No Time To Die's premiere.
The UK will receive just 15 Bond V8 Edition vehicles – five Defender 90 and 10 Defender 110 bodystyles – with the SUV featuring bespoke touches. Look out for the unique 'Defender 007' rear badge, '007' puddle lamp, illuminated '007' treadplates and exclusive animation on the 11.4" Pivi Pro touchscreen. Sadly there's no ejector seat though.
Some people watch James Bond for the gadgets. Some people watch James Bond for the locations. But it's clear at Hippo that we watch James Bond for the cars! With that in mind we've rounded up six of the most iconic Bond cars from Connery to Craig:
Sean Connery: Aston Martin DB5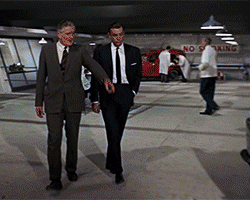 Perhaps the most iconic car ever captured on film, and one that has become synonymous with 007. What else could we choose for Connery's Bond but the Aston Martin DB5?
First seen in Goldfinger (1964) not only was the DB5 aesthetically the perfect car for Bond but the gadget-laden grand tourer captured the imagination of Bond's world. With its secret machine guns, bulletproof glass and ejector seat setting a precedent for Bond for years to come.
It's the car the franchise can't quit either. The legendary car was dusted off for Pierce Brosnan in GoldenEye (1995) and also stole the show during the spectacular climax of Skyfall (2012).
George Lazenby: Aston Martin DBS
Although it has been critically reassessed in recent years, On Her Majesty's Secret Service was the one and only outing for George Lazenby's Bond… meaning our vehicle choice here is slim! But if you're only going to be Bond once, there's worse cars to do it in than the 6-cylinder. Aston Martin DBS.
Emerald Green and featuring a six-cylinder engine, this 1969 model didn't feature any gadgets or razzle dazzle in keeping with the theme of the film. Instead, it was central to some of its most pivotal scenes.
Roger Moore: Lotus Esprit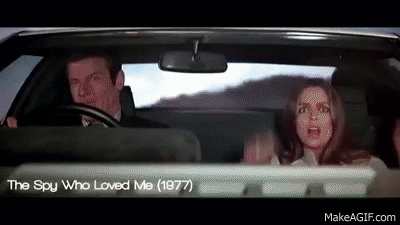 If George Lazenby's Aston Martin was the epitome of understated, the cars featured throughout Roger Moore's run as James Bond cranked that up to 11 to become the most ludicrously entertaining inventions.
Case in point: the Lotus Esprit. Showing a change in aesthetics from the classy Aston of the 60s, the Lotus showed how much car design had changed in a mere decade. And if the DB5 is remembered as the iconic Bond car, the Lotus is remembered as the iconic Bond stunt.
First appearing in the Spy Who Loved Me (1977), the Lotus is the car which converts into a submarine to escape a helicopter attack in one of the most OTT scenes filmed in the franchise. Yes, it's the famous underwater submarine car. The scene made such a big impression that one of the Espirt's used in the film was eventually bought by eccentric Tesla MD Elon Musk and was a source of inspiration for Tesla's Cybertruck.
Timothy Dalton: Aston Martin V8 Vantage
After the pun-tastic excesses of Roger Moore's James Bond, things went back to basics for Timothy Dalton's taciturn version of Bond. Part of that involved the return of Aston Martin to the franchise.
And while the Aston Martin V8 Vantage featured in The Living Daylights (1987) can't exactly be described as understated, it did bring a sense of classiness back to 007.
That's not to say it didn't feature some eye-catching gadgets though. With Bond utilising everything from a rocket motor behind the rear number plate to heat-seeking missiles behind front fog lights – it was impressive.
Much like Connery's DB5, Dalton's V8 Vantage is due to make a return to the franchise in No Time To Die.
Pierce Brosnan: BMW Z8
While Brosnan made an immediate statement in his turn as Bond, racing against Xenia Onatopp in the same DB5 which Sean Connory had made famous, his turn with the character is characterised by BMW being the manufacturer of choice.
Debuting in The World Is Not Enough (1999), the BMW Z8 stands out as the best of Brosnan's bunch. It's loaded with everything from titanium plating and ground-to-air missiles to a keychain that can control the car remotely. Perhaps the most practical and important touch however was the inclusion of cup holders.
As nice as the Z8 is, it didn't get long to shine in the film before being cut in half by a saw-wielding helicopter… but we suppose that's the danger of being a Bond car.
Daniel Craig: Aston Martin DB10
Daniel Craig's first on-screen car as Bond was a Ford Mondeo. It's safe to say things have only improved since then.
Much like Timothy Dalton's turn, things went back to basics for Bond when Daniel Craig took over for Casino Royale (2006). With the gritty realism(ish) of Craig's portrayal it has also brought Aston Martin back into the fold.
And while there have been plenty of callbacks to cars of old throughout Craig's five-film run as the spy, none are as exclusive as the Aston Martin DB10 featured in his penultimate film, Spectre (2015).
The Spectre car features a 4.7-litre V8 engine, with only 10 of the model produced and eight of those used in filming. Taking centre-stage in one of the biggest chase sequences, Bond puts that engine to good use (as well as the in-built flamethrower and ejector seat of course) to outrun and outwit his pursuers in Rome, Italy.
---